Pacificorp Aligns with CAISO's Market Development in Major Turning Point for Western Power Markets
by Grant Watson
Earlier this month, industry participants and watchdogs saw a major announcement that will shape the future of the California ISO's fledgling Extended Day-Ahead Market (EDAM). Pacificorp, the largest grid operator in the west, announced on December 8 that it would be the first electric power company to sign on to the Western Day-Ahead market development.
CAISO and Pacificorp partnered on the development and release of the Real-Time Western Energy Imbalance Market (WEIM) in 2014, an initiative that has proven its value for Western states ($2.9 billion in savings since its inception in 2014). Since then, Pacificorp and the California ISO have worked hand in hand to further develop the WEIM and set their sights on what's to come. This joint effort is echoed as CAISO and Pacificorp partner yet again to further the development of the western EDAM.

In early 2021, around the time that discussion of a western DA market advanced, Pacificorp contracted the CAISO to provide it with a DA nodal pricing model (NPM) service to clear energy supply and demand bids one day ahead of the operating day. Pacificorp used this DA market model to calculate net power costs (NPC) for each state under its service territory and assess the value this would have for its customers spread across two balancing authority areas (BAA).
Using this model (a sort of DAM trial run), Pacificorp assessed the costs and benefits of employing a DA market throughout its footprint. The results have been positive for Pacificorp, leading them again to partner with the California ISO as development continues on a DA market offering in the west.
The previous announcement that Pacificorp would partner with CAISO to develop the WEIM in 2014 was a major driver for more comprehensive discussions around regional market expansion and western collaboration. The most recent Pacificorp announcement to sign on with the EDAM initiative is no different and adds a lion's share of the western interconnection's footprint to the CAISO proposed market expansion.
While the EDAM proposal is still in the design and review phases (from CAISO Board of Governors and FERC alike), we will see this development initiative ramp up in the coming year before the 2024 implementation target.
"The initial launch of the EDAM will join the West's two largest grid operators, Pacificorp and CAISO," according to Pacificorp, broadening the reach of a western DA market well before it is even implemented.
Overall, Pacificorp's decision to align with CAISO's western DA market development is a major turning point for the future of integrated power markets in the west.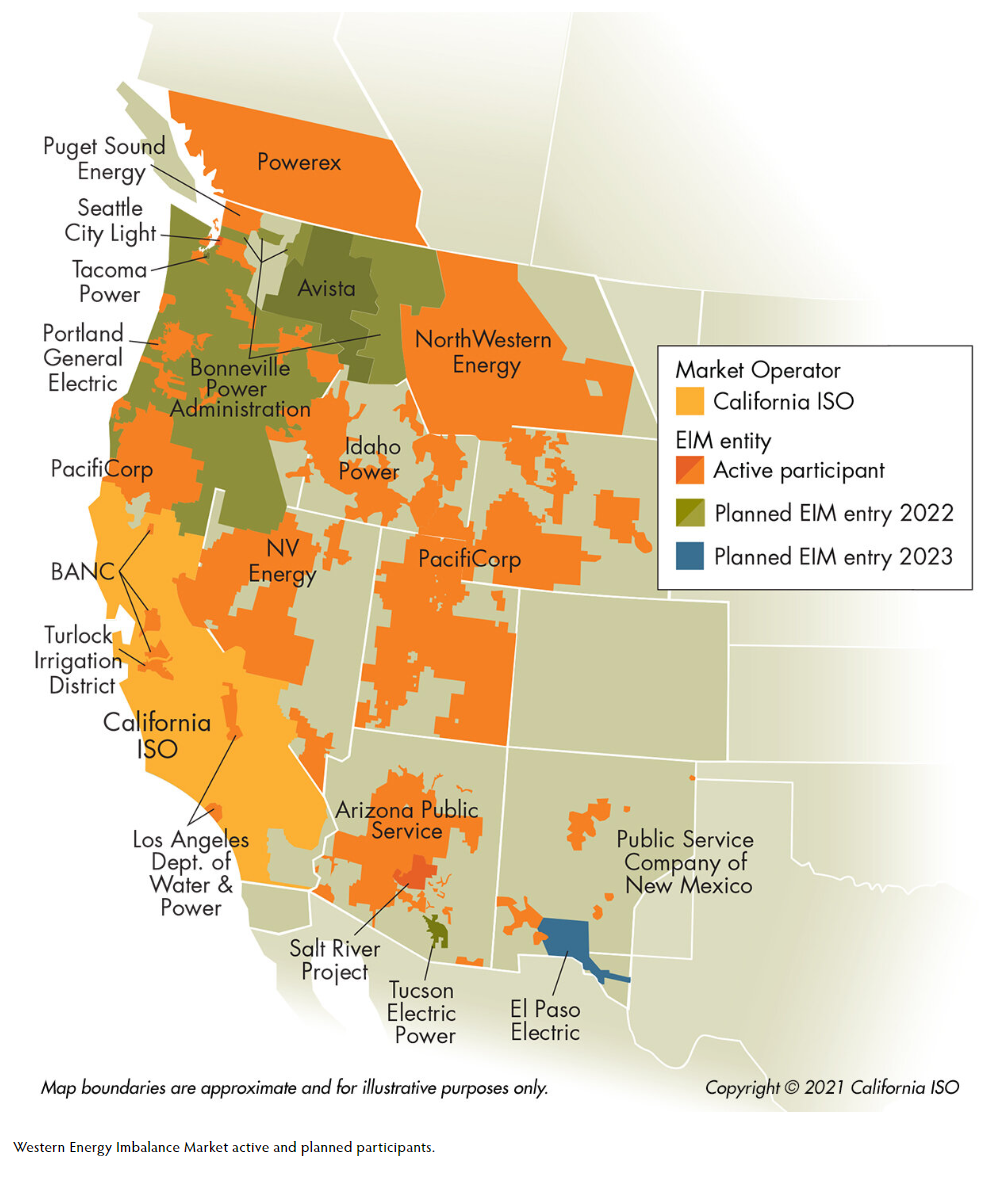 The EDAM proposal is a major development for the region, but CAISO's goals surpass even this. In the past few years, discussions of a west-wide RTO have gained traction. These discussions have led to development initiatives from CAISO and SPP alike. There is a recognized need for further development across western markets to alleviate stresses stemming from climate change, rising load levels, and aging infrastructure.
Recent events like the prolonged west-wide September heatwave highlight the need for greater regional collaboration and holistic market development in the west. CAISO and Pacificorp recognize these challenges, as well as the opportunities they present for success. Both of these major western players are pursuing regionalization through EDAM and will likely try to leverage the growing momentum of these California-led initiatives towards greater west-wide market development.
If the successes of the WEIM are paralleled by EDAM, we will likely see the California ISO take steps toward developing a full-fledged CAISO-sponsored western RTO. That being said, CAISO is not the only player vying for expansion in the west.
SPP is also making strides to develop a DA market offering (SPP Markets+) in the western interconnection and has been vocal about its intentions to develop a western RTO (RTO West) as well. This competition should actually benefit market design, giving individual BAs and grid operators the ability to choose which service offering fits them and their customers best. DA market offerings are the next step for CAISO and SPP, but each has its eyes set on the holy grail – a comprehensive western RTO service offering both DA and RT market services.
A western RTO would not only create greater trading and hedging opportunities for physical and virtual traders alike in a DA market structure but also increase regional transmission and resource planning opportunities for entities engaged in western markets. A Western RTO could also create as many as 657,000 permanent, high-paying jobs in the West, diversify state economies, and save ratepayers millions of dollars per year in energy costs, according to Advanced Energy Economy (AEE), a national association of businesses dedicated to secure, clean, and affordable energy.
Navigating expanding markets and power market data remains a complex and challenging endeavor. To learn how Yes Energy's energy market data and analytic tools can empower companies to confidently navigate wholesale power market data and maximize their bottom line, request a demo.