Cultivating Future Leadership with Yes Energy's Intern Class of 2022
by April Duffey on Aug 11, 2022
Leadership is important to us at Yes Energy, and that's why we've been working on initiatives to develop the next generation of industry leaders and impact the future of the energy industry. This year, we renovated our internship program to create a more robust program, and Yes Energy's intern class of 2022 rose to the challenge! The results were so positive that we wanted to share the experience with our clients, customers and friends.
At Yes Energy, our goal was to set our interns up for success and positively impact their future. To that end, we provided them with a wide network of support, from a suite of professional development courses (ranging from business communications to networking) to a presentation coach. We even brought in an external recruiter to inform their transition into future careers.
Students came from a wide range of geographical and academic backgrounds, from economics and data science to computer science and marketing. We matched each of our 14 interns with departments where they could thrive: engineering, power infrastructure, market data operations, strategic operations, people operations, product, marketing, business intelligence and learning and development. Each found a home–as well as a mentor–at Yes Energy.
Learning Objectives
As our interns settled in, we worked together to create clear learning objectives. Here are a few of the projects they tackled:
One of our market data operations projects was to build a series of tests to be implemented on the ETL processes, with the goal of improving ease of development as well as quality of code. The results? Our intern created an automated job to identify and pinpoint missing data and notify appropriate parties in a timely manner.
In engineering, we wanted to improve the observability to speed up the process of testing and fixing code before it impacts downstream pieces of the project. To that end, our intern converted original pipe-delimited logs into JSON and created dashboards in Kibana using the logs to generate insights.
In the business intelligence department, Jaron Berman studied the effects of changes in the credit requirement in the energy market. His work continues to help Yes Energy remain a policy leader in the industry advocating for efficient markets.
Interns reported positive experiences across the board.
Namidu De Silva, a Geographical Information Systems graduate student from Minnesota State University, researches power markets distribution. His goal for his time at Yes Energy was to expand his knowledge and translate what he learned in the classroom into a more real-life, application-based perspective. "I looked forward to building my SQL coding, data analysis skills while using GIS skills in the energy industry," Silva said, "And of course spending time in Colorado, which I was very excited for."
According to him, the internship program surpassed his expectations. "Overall, it was one of the best experiences I've had, internship-wise, and even work-wise," said Silva. "It's been a blast! Every day I was excited to come to work and looked forward to the next day to see how much I could learn. Everything I learned this summer, I'll carry forward in my research in my master's as well as in my career moving forward."
The people at Yes Energy also made a difference. "Everyone was incredibly knowledgeable and willing to teach me," he said. "The power infrastructure team, which I interned for, was very supportive and helpful in making this internship experience a great one, as were all the managers and the rest of the company."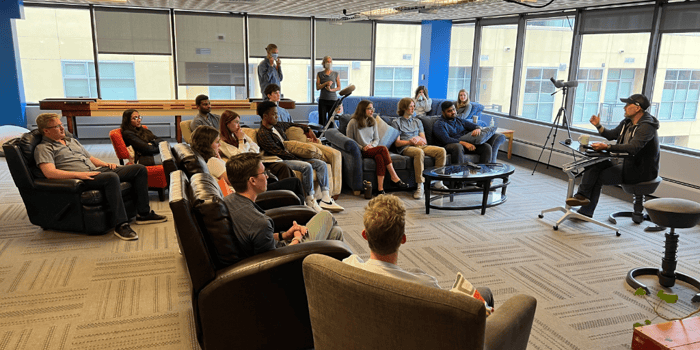 Life-Long Bonds
To foster community, we started the interns at the beginning of June so that we'd have the full summer together. To support out-of-state interns, we partnered with the University of Colorado Boulder to provide housing–an experience that allowed the group to socialize (and cook) together on a regular basis, deepening their experience. Students from Georgetown to Illinois to California came to Boulder knowing they had a safe haven in which to grow and explore.
The group created strong bonds–friends for life, according to many of the interns–and many spoke about the benefits of their time at Yes Energy. Some were excited to share their experience with their professors once they returned to campus, while others were excited to use their experience as a launching pad for careers in the energy industry.
As we reflect on the impact of this incredible class, we found that the students weren't the only ones that benefited from our internship program–we all benefited from the talent, energy and hard work of these young people! Their presence positively impacted our entire team.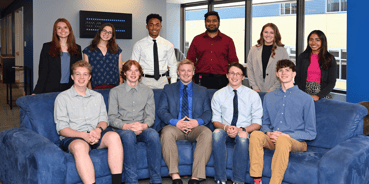 At Yes Energy, we had such an amazing experience with our 2022 cohort that we can't wait to do it again! Although it'll be hard to top this group, we look forward to welcoming a new cohort of interns into our summer 2023 program.
To learn about future internship opportunities (as well as to send scholarship or intern referrals) at Yes Energy, please reach out to peopleops@yesenergy.com.